Old Man of the Woods is not a commonly found mushroom in the UK, it is a rare find but is also hard to find amongst leaf litter. Due to it's rarity in the UK we advise leaving this strange looking Bolete for admiration only.
| | |
| --- | --- |
| Mushroom Type | |
| Common Names | Old Man of the Woods, Hen Ŵr y Coed (CY), Szyszkowiec Łuskowaty (PL), Pikkelyes Tinóru (HU) |
| Scientific Name | Boletus / Strobilomyces strobilaceus |
| Synonyms | Strobilomyces floccopus |
| Season Start | Jul |
| Season End | Nov |
| Average Mushroom height (CM) | 6-12 |
| Average Cap width (CM) | 8-14 |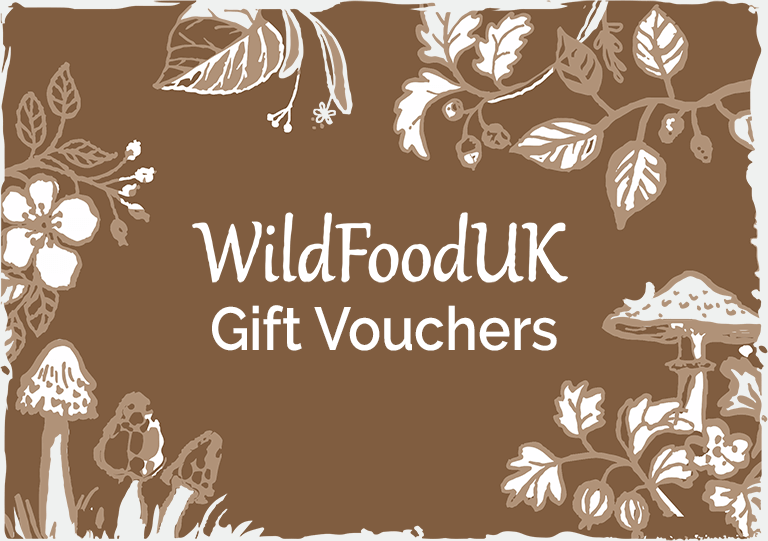 Please note that each and every mushroom you come across may vary in appearance to these photos.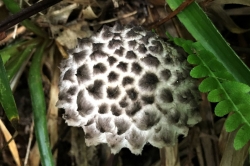 Cap
6-12cm. Convex flattening as it matures. The cap is covered in grey to black triangular scales, the cap is off white to pale grey between the scales.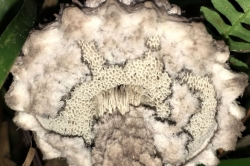 Pores
Fairly large angular pores that are off white to grey to almost black with age. The pores will bruise red at first before turning black.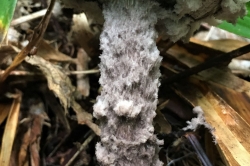 Stem
Covered in dense scales below where the partial veil was attached, less so above. The stem is very firm.
Flesh
Starting white to off white but staining red then black on exposure to air.
Possible Confusion
This mushroom is very distinctive and is easy to identify.
Taste / Smell
Unremarkable but due to it's rarity in the UK we do not advise eating or disturbing this mushroom.
Frequency
A fairly rare find in the UK.
Spores
Black. Ellipsoid and covered in a fine mesh.
RELATED WILD FOOD RECIPES
RELATED FORAGING ARTICLES