A great and usually large mushroom, almost as good as the Penny Bun with a firm texture.
| | |
| --- | --- |
| Mushroom Type | |
| Common Names | Oak Bolete (EN), Butter Bolete (US), Cap Tyllog Derw (CY), Masłoborowik Żółtobrązowy (PL), Sárgahúsú Tinóru (HU) |
| Scientific Name | Boletus / Butyriboletus appendiculatus |
| Synonyms | Boletus appendiculatus |
| Season Start | Jul |
| Season End | Oct |
| Average Mushroom height (CM) | 12 |
| Average Cap width (CM) | 20 |
Please note that each and every mushroom you come across may vary in appearance to these photos.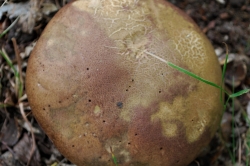 Cap
Rusty to red brown or sometimes lighter, often irregular, sometimes has a 'cracked' skin especially near the centre.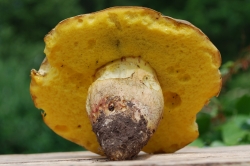 Pores
Lemon yellow, tight sponge like pores that darken a bit with age. These will bruise to a blue colour.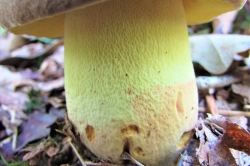 Stem
Straight or clavate, club shaped, lemon yellow at the top with yellow reticulation, (a mesh or net like covering) then usually a change to a pale orange to red towards the base.
Possible Confusion
Other Boletes. Although the Oak Bolete is quite distinctive care should be taken when trying to identify this mushroom as it breaks the simple edible rules for Boletes (if a bolete has red on it anywhere, do not eat it and if it stains blue when cut, again, don't eat it).
Spore Print
Olivaceous/brown. Subfusiform.
RELATED WILD FOOD RECIPES
RELATED FORAGING ARTICLES