Occasional but usually found in  large groups. They are very hard to spot among the leaf litter until you spot your first one, then if you are lucky, many appear.
| | |
| --- | --- |
| Mushroom Type | |
| Common Names | Horn Of Plenty (EN), Black Trumpet (US), Trompette de la mort (FR), Trompette des morts (FR), Corn Llawnder (CY), Lejkowiec Dęty (PL), Sötét Trombitagomba (HU) |
| Scientific Name | Craterellus cornucopioides |
| Season Start | Aug |
| Season End | Oct |
| Average Mushroom height (CM) | 7 |
| Average Cap width (CM) | 5 |
Please note that each and every mushroom you come across may vary in appearance to these photos.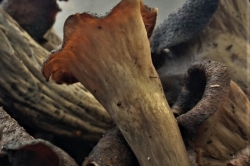 Gills
Grey / brown to black. Does not really have obvious gills but slight ridges running up the stem to the edge of the cap.
Flesh
Grey/black. Thin and fibrous.
Possible Confusion
You are unlikely to confuse this species with anything else.
Spore Print
Cream to salmon to yellow. Ellipsoid.
Taste / Smell
Excellent. Can be easily dried and stored for a long time.
Other Facts
A strong tasting delicious mushroom.
RELATED WILD FOOD RECIPES
RELATED FORAGING ARTICLES