A large mushroom that grows from dead wood with a dark cap and noticeable radish-like smell.
| | |
| --- | --- |
| Mushroom Type | |
| Common Names | Deer Shield (EN), Tarian Carw (CY), Drobnołuszczak Jeleni (PL), Barna Csengettyűgomba (HU) |
| Scientific Name | Pluteus cervinus |
| Synonyms | Pluteus atricapillus |
| Season Start | Apr |
| Season End | Nov |
| Average Mushroom height (CM) | 5-10 |
| Average Cap width (CM) | 3-14 |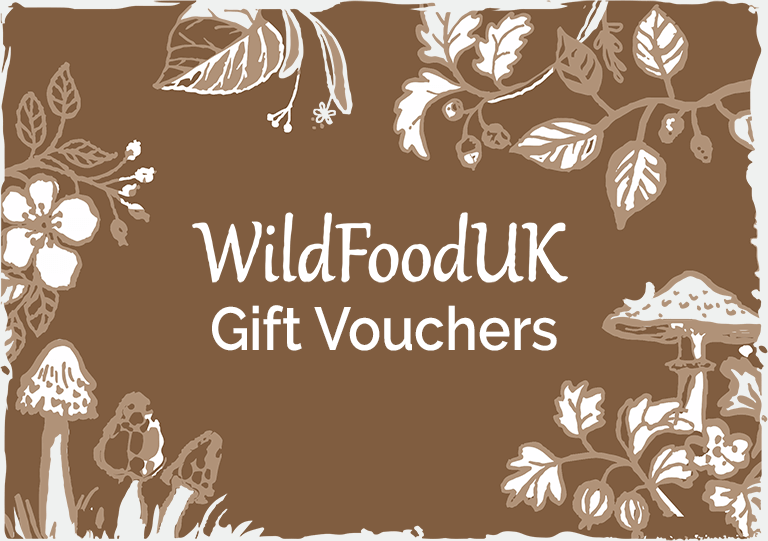 Please note that each and every mushroom you come across may vary in appearance to these photos.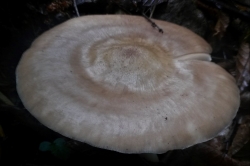 Cap
Bell-shaped at first then convex, later flattening with a broad umbo. Pale to dark brown, sepia to dark umber with radiating streaks. Viscid when moist, shiny when dry.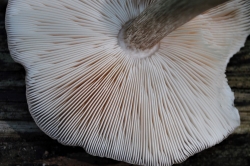 Gills
Crowded, free from the stem and fairly deep. Whitish at first turning pink, later dull to dark flesh pink.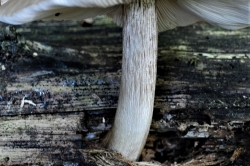 Stem
Cylindrical, more or less straight, slightly swollen at the base. Whitish, greyish white, pale brownish, becoming streaked with dark brown fibres. It is easily removable from cap.
Flesh
Thin, soft and juicy in cap, fibrous in stem, white.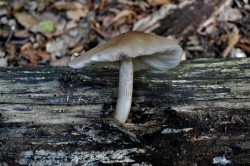 Habitat
On dead wood of hardwoods, and rarely on conifers, sometimes on wood chips and sawdust. Growing solitary
Possible Confusion
Blackedged shield (Pluteus atromarginatus) has darkening edged gills and it grows on conifers.
Scaly shield (Pluteus petasatus) has a much paler, whitish to creamy cap with a darker, scaly umbo.
Taste / Smell
Taste and smell like radish (raphanoid).
Frequency
Common and widespread all over the UK.
Spores
Pink. Broadly ellipsoid, smooth, thin walled.
RELATED WILD FOOD RECIPES
RELATED FORAGING ARTICLES