This is a large, frequent, and edible mushroom noted for its groups of ten or more caps – its scientific species name, decastes, means groups of ten. It often grows near gravel paths and roads and is associated with trees. Although a good edible it is also known to cause gastric upset in some people so only a small amount should be eaten first time. 
| | |
| --- | --- |
| Mushroom Type | |
| Common Names | Clustered Domecap (EN), Fried Chicken Mushroom (US), Chicken of the Gravel, Chicken Mushroom, Pengrwm Glystyrog (CY), Kępkowiec Jasnobrązowy (PL), Sötét Csoportospereszke (HU) |
| Scientific Name | Lyophyllum decastes |
| Season Start | Aug |
| Season End | Nov |
| Average Mushroom height (CM) | 5-7 |
| Average Cap width (CM) | 5 - 10 |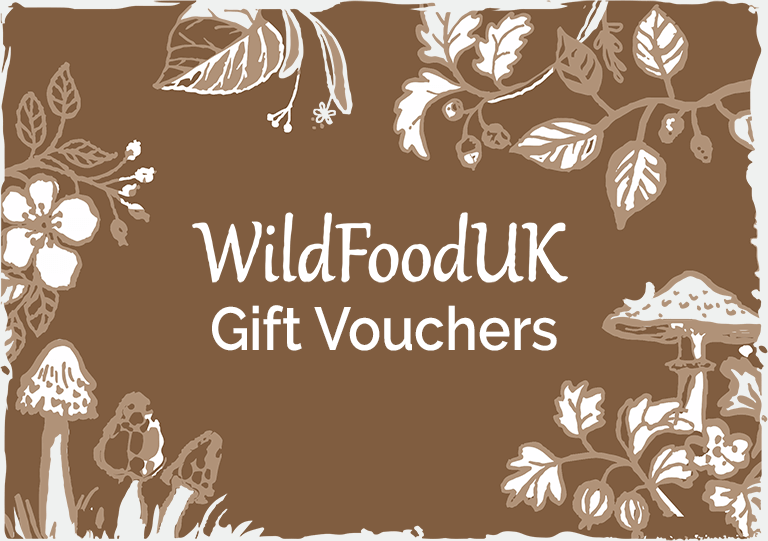 Please note that each and every mushroom you come across may vary in appearance to these photos.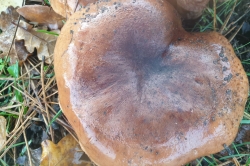 Cap
The caps are brown and greasy, reaching 10cm and exceptionally 15cm. They start off convex and flatten with age sometimes developing a depressed centre and frequently a wavy edge.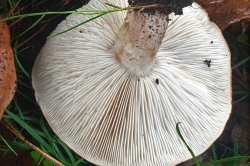 Gills
White, crowded gills, yellowing/greying with age. Adnate (straight) to adnexed (curvy) connection to the stem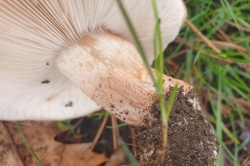 Stem
White with fibres running along the length, sometimes a few brown fibres. 1.5 to 2.5cm thick and 3 to 5cm long. Straight to slightly tapering at base. Often connected to nearby stems in the cluster.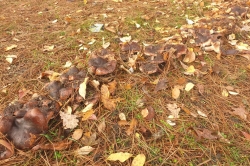 Habitat
Growing from the ground, NOT on wood. Often near or in gravel drives, paths and roads. Frequently associated with trees in grass.
Possible Confusion
Clustered Domecap could be mistaken for several poisonous species if it were not for its clustering habit which is a key identifier.  There is one similar brown capped mushroom growing in dense groups that is similar. Cucumber Cap (Macrocystidia cucumis), is a poisonous lookalike, in respect to being a brown capped mushroom growing in large numbers. However there are significant differences. The cap edge is always pale, the stem brown darkening towards the base, and it smells of a cross between cucumber and fish – sometimes described as pickled herring! The taste is acrid, oily, and generally not nice.
Taste / Smell
Mushroomy, some report slightly chickeny.
Frequency
Common and where there is one there are many!
Spores
White. Subglobose.
Other Facts
DNA analysis has shown that the Clustered Domecap is in fact part of 'species complex' of 5 or more separate but extremely similar and closely related species and is sometimes now referred to as Lypophyllum decastes s.l (senso lato = in broader sense).
RELATED WILD FOOD RECIPES
RELATED FORAGING ARTICLES