A common, medium sized polypore mushroom on hardwoods with a really variable look.
Mushroom Type
Common Names
Blushing Bracket (EN), Thin-Walled Maze Polypore (US), Thin-Maze Flat Polypore (US), Ysgwydd Helyg (CY), Gmatwica Chropowata (PL), Rózsaszínes Egyrétűtapló (HU)
Scientific Name
Daedaleopsis confragosa
Synonyms
Daedaleopsis tricolor, Trametes confragosa, Trametes rubescens
Season Start

All

Year
Season End

All

Year
Average Mushroom height (CM)
Average Cap width (CM)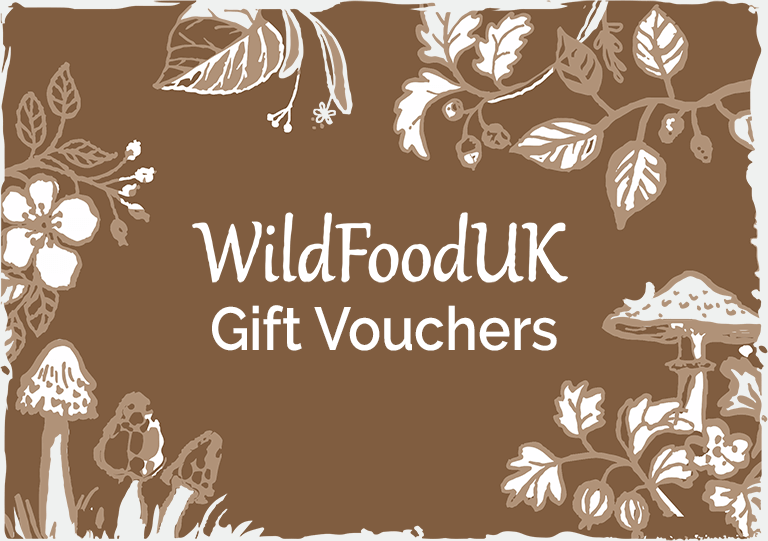 Please note that each and every mushroom you come across may vary in appearance to these photos.
Fruiting Body
Up to 10–20 cm long, 10 cm wide and up to 5 cm thick, somewhat convex, semi-circular. Margin is thin, sharp, slightly undulate, usually white or off-white, darkening with age. Its skin is faintly hairy (tomentose) to glabrous with concentric zones, ochre or cinnamon coloured, sometimes wine-red, turning brownish with age.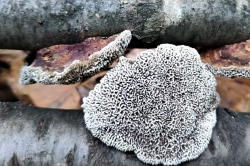 Pores
Tubes are up to 20 mm long (at the attach point to the host/substrate), pores 1–2 per mm, round to elongated, irregular, maze-like or in case of D. confragosa var. tricolor, radially lamellate. Pore surface is whitish when young (with or without greyish hint), then ochraceous to rusty, bruising pink to reddish when handled.
Flesh
Homogenous, fibrous, corky, slightly or indistinctly zonate, buff to brown coloured and up to 2 cm thick.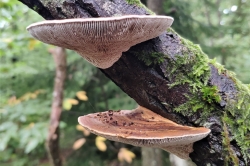 Habitat
On dead wood of deciduous trees, preferably beech, birch and willow. Growing singularly, or in tiers. Saprotrophic, causes white-rot.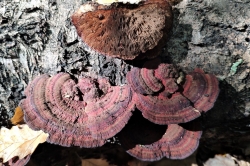 Possible Confusion
Daedaleopsis confragosa var. tricolor prefers wild cherry and birch, if you treat it as a different species.
Common Mazegill (Datronia mollis) most of the cases remains resupinate (doesn't really form cap), it has elongated greyish pores, and its pore surface barely bruises brown when handled.
Oak Mazegill (Daedalea quercina) has bigger fruit bodies, growing on dead oaks and its maze-like pores are deeper, than the pores of blushing bracket.
Spore Print
Spore print is white. Spores are sub-cylindrical, colourless (hyaline), smooth.
Taste / Smell
Inedible. Taste and odour not distinctive.
Frequency
Common and widespread.
Other Facts
Many authors describes Daedaleopsis tricolor as an independent species, however according to the latest molecular studies, it cannot be a separate species, only a variety: Daedaleopsis confragosa var. tricolor.
RELATED WILD FOOD RECIPES
RELATED FORAGING ARTICLES