Sweet Cicely

Edible

Autumn

Spring

Summer
About the only fern leaved member of the Apiaceae family that we consider safe as the aniseed smell is so strong it can't be mistaken for one of the poisonous varieties.
| | |
| --- | --- |
| Hedgerow Type | |
| Common Names | Sweet Cicely, Sweet Cicely, Garden Myrrh, Sweet Chervil |
| Scientific Name | Myrrhis odorata |
| Season Start | Mar |
| Season End | Oct |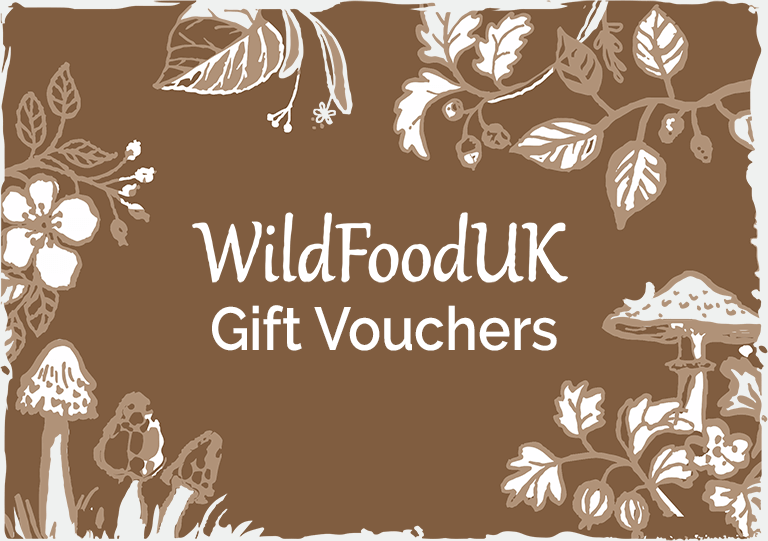 Please note that each and every hedgerow item you come across may vary in appearance to these photos.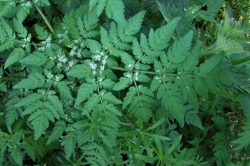 Leaves
The fern like leaves are distinctive from other Apiaceae as they have what looks like white paint slodges towards the base although these are not always present on every leaf. The young leaves are bright green, these become paler as the plant matures.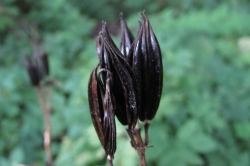 Seed Pods
Has green elongated seed pods with vertical ridges that turn almost black when fully mature. These can often still be found on the plant well into Autumn.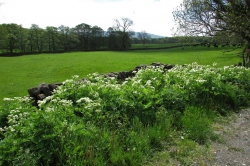 Habitat
Hedgerows, field edges and waste ground in Scotland and the north of England. Rarely found south of Birmingham.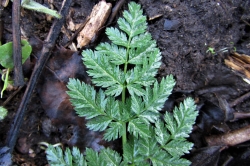 Possible Confusion
Can look like several Apiaceae, most similar to Hemlock, pictured, and Wild Chervil but the pale slodges on the leaves and strong aniseed smell should help avoid confusion.
Smell
Strongly of aniseed.
Frequency
Very common in Scotland and the north of England.
Collecting
The seed pods, leaves, flowers and root of this plant can all be harvested and eaten. You must have permission from the landowner before uprooting any plant.
Other Facts
Sweet Cicely was used in the past to sweeten food and drink before sugar came to the British Isles.
RELATED WILD FOOD RECIPES
RELATED FORAGING ARTICLES