The family name, Hortiboletus, refers to the latin hortus meaning garden where the bubalinus can often be found growing with Poplar, Populus or Lime, Tilia.
| | |
| --- | --- |
| Mushroom Type | |
| Common Names | Ascot Hat (EN), Poplar Bolete |
| Scientific Name | Boletus / Hortiboletus bubalinus |
| Synonyms | Boletus bubalinus, Xerocomus bubalinus, Xerocomellus bubalinus |
| Season Start | Jul |
| Season End | Oct |
| Average Mushroom height (CM) | 10 |
| Average Cap width (CM) | 12 |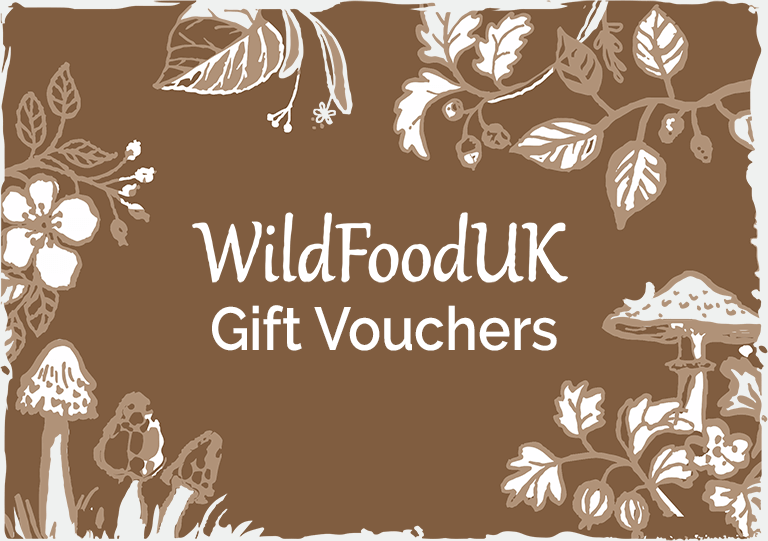 Please note that each and every mushroom you come across may vary in appearance to these photos.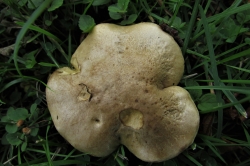 Cap
Pale brown with slight red or yellow hues, lighter towards the edge. Starts of rounded but becoming flatter and more uneven with age.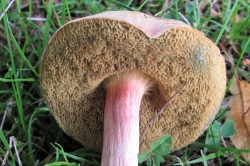 Pores
Yellow to pale yellow sometimes with olivaceous hints. Angular not round and bruising blue/green.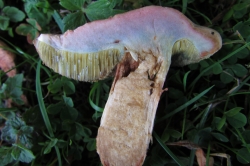 Flesh
Off white/yellow in the stem. White in the cap staining pink under the cuticle and blue above the pores.
Possible Confusion
Other Boletes but none of the poisonous varieties.
Spore Print
Olive brown. Subfusiform.
Frequency
Not reported much before 2000 but becoming more common or more often reported.
Other Facts
Was Boletus bubalinus then becoming Xerocomus then Xerocomellus before, for now anyway, settling with Hortiboletus.
RELATED WILD FOOD RECIPES
RELATED FORAGING ARTICLES