Hairy Bittercress

Edible

Autumn

Spring

Summer

Winter
This lovely, strong tasting little plant is available all year and is abundant in the UK.
| | |
| --- | --- |
| Hedgerow Type | |
| Common Names | Hairy Bittercress, Lambs Cress, Land Cress, Spring Cress, Hoary Bittercress, Shot Weed, Flick Weed |
| Scientific Name | Cardamine hirsuta |
| Season Start | Jan |
| Season End | Dec |
Please note that each and every hedgerow item you come across may vary in appearance to these photos.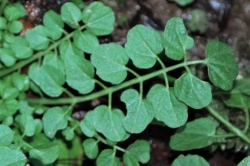 Leaves
Small, green and rounded growing in opposite pairs along the leaf stem with one single, usually larger, finishing or terminal leaf at the end.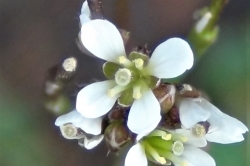 Flowers
Tiny, delicate, white, four petaled flowers growing in small groups at the top of a vertical stem.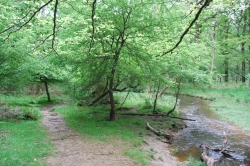 Habitat
Occurs on bare soil, light grass, cracks in paths and growing on walls. It is a very common plant. It will grow just about anywhere and does not need much light.
Possible Confusion
Other edible Cardamines. There are similar plants, but nothing dangerous, so the way to find out if you have Hairy Bitter Cress is to have a little nibble.
Taste
This plant tastes like cress crossed with rocket and is one of our favourite edibles. Great for salads, salsa, pestos and anywhere you would use cress raw, cooking, unfortunately, seems to remove the flavour.
Collecting
The leaves are the only parts we collect, they are quite small but usually grow in groups so a few leaf stems from each plant in an area will usually suffice for a meal.
Uprooting plants is not allowed on common land in the UK but if you have permission to, this plant will do very well in a bowl of water on your window sill and with the flower stems removed as they appear, will keep producing leaves in abundance.
Other Facts
It has a 12 week lifecycle so if left undisturbed a patch can grow quite substancially in a year. This species grows to no more than 30 centimetres tall.
The thin seedpods are about 3 centimetres long, and explode when ripe flinging the seeds to new ground.
This plant is a member of the mustard family Brassicaceae.
RELATED WILD FOOD RECIPES
RELATED FORAGING ARTICLES