Elder Tree

Edible

Autumn

Spring

Summer
A great foragers shrub that's very common and has three edible crops.
| | |
| --- | --- |
| Hedgerow Type | |
| Common Names | Elder Tree |
| Scientific Name | Sambucus nigra |
| Season Start | May |
| Season End | Oct |
Please note that each and every hedgerow item you come across may vary in appearance to these photos.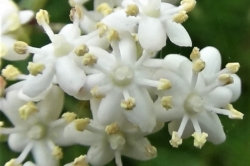 Flowers
Large umbels of off white to cream, small flowers, looking almost 'frothy' from April to June.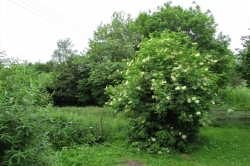 Habitat
Hedgerows, woodland, gardens, in fact elders are not fussy and will grow almost anywhere given enough light.
Possible Confusion
It is quite difficult to confuse this tree with any other especially when in flower or fruiting or when the leaves are crushed and smelt.
Smell
The leaves have an unpleasant smell as can the flowers and when left in a bag for a short length of time smell very like cats urine.
Taste
The flowers have a sweetish taste, the berries should be cooked and are rather bland and best used with other fruit or used to make wine.
Collecting
Only the flowers(raw) and berries(cooked) are edible on this tree, and you shouldn't consume the berries raw, as the seeds contain cyanide inducing glycocides. The rest of the tree is poisonous and contains compounds that are metabolised into cyanide within the body.
Never try to climb an Elder tree, the branches are very brittle.
Medicinal Uses
It seems to be mostly good for respiratory problems, including bronchitis, coughs, congestion, sinus, flu and sore throats.
Other Facts
Elder flowers make a great cordial or for us, an even easier to make and better tasting champagne, see our Recipes page. The flowers can also be used to make a lovely syrup, or dipped in a light sweet batter and deep fried.
The berries are best used to make wine or mixed with other berries or used to make Pontiac sauce or a fruity balsamic vinegar – see Recipes.
There is another crop from the Elder and that is the Wood Ear, Auricularia auricula-judae – a mushroom that can be found at all times of year growing from dead limbs or stumps of Elder.
See  www.wildfooduk.com/mushroom-guides/wood-ears-mushroom/
There are other species of Sambucus in the UK but most are ornamental and grown in peoples' gardens; the berries of all must be cooked before consumption.
The Elder tree has a strong association with witches and folk medicine.
RELATED WILD FOOD RECIPES
RELATED FORAGING ARTICLES