Asparagus

Edible

Spring
Wild Asparagus is really the escaped cultivated plant but a few different varieties can grow in the UK. There is also confusion over whether Asparagus officinalis sub prostratus is a sub species or a separate species itself and grows prostrate along the ground, otherwise it looks like A. officinalis.
| | |
| --- | --- |
| Hedgerow Type | |
| Common Names | Asparagus, Sparrow Grass |
| Scientific Name | Asparagus officinalis, Asparagus prostratus |
| Season Start | Mar |
| Season End | May |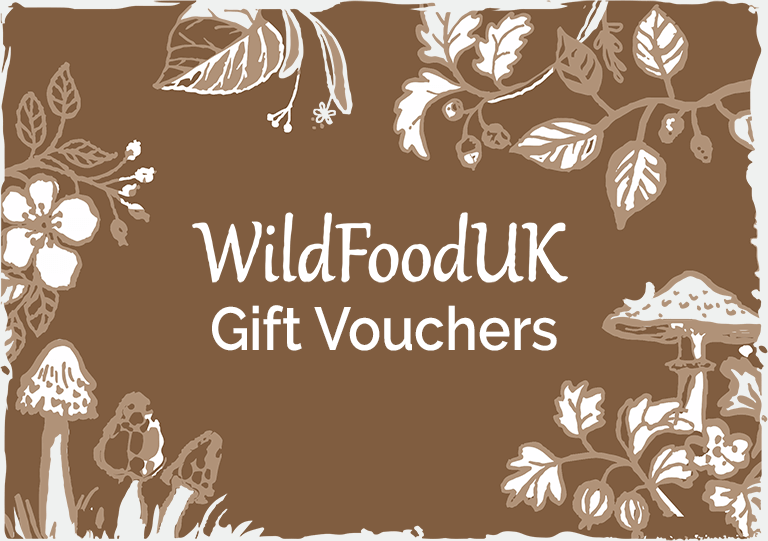 Please note that each and every hedgerow item you come across may vary in appearance to these photos.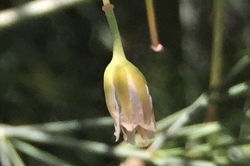 Flowers
The flowers are bell-shaped, greenish-white to yellow and are produced singly or in clusters of two or three in the junctions of the branches. Later in the year toxic red berries are produced.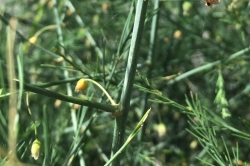 Stem
In its wild shrub like form, the stem is woody and at the base of young growth there should be dry triangular leaf scales.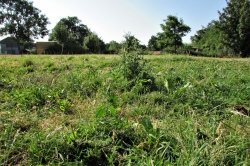 Habitat
Wood edges, gardens, waste ground and soil with a salt content, ie; coastal or alongside roads that are gritted.
Possible Confusion
There are a few spikey shrubs that look similar but none grow asparagus spears from them.
Collecting
If you know where last years asparagus was growing from look for the fresh spears emerging from the ground from March to June or although much smaller, sometimes the upright tips grow from the branchlets and look and taste just like small cultivated asparagus and can be cooked and eaten in the same way later in the year.
Medicinal Uses
Asparagus can be used as a diuretic, a laxative or a kidney tonic.
Other Facts
Traditionally used as an aphrodisiac.
RELATED WILD FOOD RECIPES
RELATED FORAGING ARTICLES