Herefordshire, Drovers Rest, Field Mycology Course
Day : Saturday
Date : 29/10/2022
Time : 12:00 pm - 4:00 pm (Approx End)
Meet Point :
Address
Drovers Rest,
Drovers Rest, Off Watery Lane,
Hay-on-Wye,
Herefordshire,
HR3 6AG

This is a Field Mycology Course not a foraging course.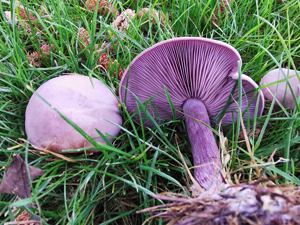 Your Course leaders will be Attila Fodi and Marlow Renton.
On this course you will learn how to identify many interesting Fungi including polypores and other inedible species plus plenty of poisonous ones on top of any edibles that we find. The course is designed to help you identify a wide variety of fungi in the field, often with the help of books and chemical tests.
We will be meeting in the courtyard at 12am. Please do not drive into the courtyard, turn left into the car park as you go in and park in there. The post code does NOT get you here so do follow directions using google maps. Or if you use What three words flown.widely.yield. You will find brown tourist signs closer that are clearly signposted Drovers Rest. Their Lane is a no through road through the woods.
We recommend you bring
Comfortable, weather appropriate clothing and footwear
Camera
Note pad/pen
A drink
While masks are not mandatory, feel free to wear one if it makes you feel more comfortable. Please also bring your own cup for drinks during the walk, and plate and cutlery for the meal at the end of the course.
4pm is only an approximate finish time and depending on certain factors.
Bookings are closed for this event.