Very common and can be found year round. Usually most abundant in January and February when there is not much else about.
Mushroom Type
Common Names
Jelly Ears (EN), Wood Ears, Tree Ears, Mu Erh, Clustiau'r Ysgaw (CY), Uszak Bzowy (PL), Júdásfülgomba (HU)
Scientific Name
Auricularia auricula-judae
Season Start

All

Year
Season End

All

Year
Average Mushroom height (CM)
0
Average Cap width (CM)
5
Please note that each and every mushroom you come across may vary in appearance to these photos.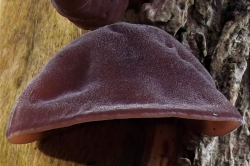 Fruiting Body
The fruiting body is ear-shaped. It is smooth or undulating, covered in very fine down and is tan, red/brown in colour.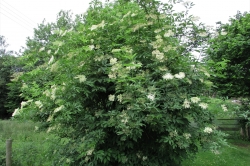 Habitat
Mainly growing on dead or living elder in large numbers but can be found occasionally on other wood.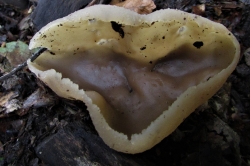 Possible Confusion
As long as you only collect these from elder trees they can only be Jelly Ears.
Some Pezizas, pictured, can look similar but these don't tend to grow on elder and grow with the 'cup shape' facing up, the Jelly Ears face down.
Spore Print
White. Sausage shaped.
Taste / Smell
Not strong but good if used in Asian style cooking or dried, ground to a fine powder and used as stock.
Frequency
Very common and widespread in the UK.
Other Facts
Can be picked in its dry state and re-hydrated when needed or picked fresh and dried at home.
Can withstand frosts and grows all year round.
Named after the apostle, Judas, who allegedly hanged himself from an elder tree.
RELATED WILD FOOD RECIPES
RELATED FORAGING ARTICLES