This mushroom is best cooked in a creamy recipe, or mixed with other mushrooms due to the slight acidic taste. The wood of trees infected with the beefsteak fungus develops brown rot, which makes the wood richer, darker and of great interest to the furniture building trade.
| | |
| --- | --- |
| Mushroom Type | |
| Common Names | Beefsteak Fungus (EN), Beefsteak Polypore (US), Ox-Tongue Fungus, Tafod Bustach (CY), Ozorek Dębowy (PL), Májgomba (HU) |
| Scientific Name | Fistulina hepatica |
| Season Start | Aug |
| Season End | Nov |
| Average Mushroom height (CM) | 0 |
| Average Cap width (CM) | 20 |
Please note that each and every mushroom you come across may vary in appearance to these photos.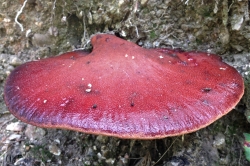 Fruiting Body
Tongue to liver shaped semicircular bracket with an inflated edge when young flattening with age. Red or red/pink/brown. Usually moist or sticky.
Possible Confusion
You are unlikely to confuse this species with anything else.
Spore Print
Pink/pale ochre. Ovate.
Taste / Smell
Slightly acidic or sour getting stronger with age. Good as a meat substitute as it looks like the real thing.
Other Facts
Can be eaten raw in salads where the fruity, acidic taste goes quite well.
RELATED WILD FOOD RECIPES
RELATED FORAGING ARTICLES