The Bay Bolete is a great mushroom and not far from the Penny Bun in gastronomic value. So much so, we could not differentiate between the two in a blind taste test, with only the less firm texture of the Bay Bolete giving it away.
| | |
| --- | --- |
| Mushroom Type | |
| Common Names | Bay Bolete (EN), Cap Tyllog Gwinau Cleisiog (CY), Podgrzyb Brunatny (PL), Barna Tinóru (HU) |
| Scientific Name | Boletus / Imleria badia |
| Synonyms | Boletus badius |
| Season Start | Aug |
| Season End | Nov |
| Average Mushroom height (CM) | 13 |
| Average Cap width (CM) | 15 |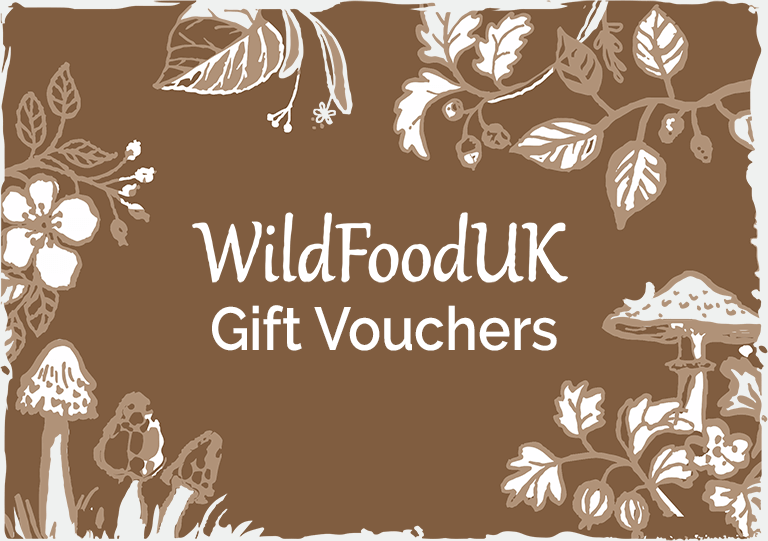 Please note that each and every mushroom you come across may vary in appearance to these photos.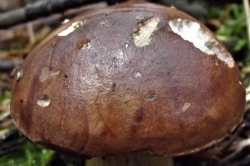 Cap
Often starts spherical opening to convex and flattening with age. A bit velvety when young. Dark brown or brown/brick coloured, slightly slimy when wet.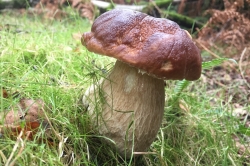 Possible Confusion
Can look like other Boletes (see Penny Bun, pictured,) but if you stick to the simple rule of avoiding any Bolete with red on the stem, pores or cap and any Bolete whose flesh turns rapidly blue when cut you will only pick edible Boletes. You will be missing out on some good edibles with that rule but you will be keeping yourself 100% safe.
Spore Print
Green/brown. Subfusiform.
Taste / Smell
Good when fresh with the pores removed, better when dried.
Other Facts
A great find as Bay Boletes don't often host maggots.
RELATED WILD FOOD RECIPES
RELATED FORAGING ARTICLES