Worcestershire, Tenbury Wells Foraging Courses
Built in 1728 Burford House and its beautiful gardens have been open to the public since 1958. At one point in the garden is the spot where the three counties of Worcestershire, Herefordshire and Shropshire meet. The countryside around theses three counties is both beautiful and rich in wild edible plants and fungi.
On the outskirts of Tenbury Wells, it is within easy reach of Ludlow, Leominster, Bromyard, Cleobury Mortimer, Kidderminster, Hereford and Worcester.
We will meet outside the cafe at Burford House. The course starts there with a short introduction on what to look for, our foraging code and a brief of the Countryside Act, where it relates to foraging. Tea or coffee is available from the cafe.
Then we'll set off on a roughly 2.5 hour walk around the gardens and along the River Teme, teaching you how to identify the different edible and poisonous plants, flowers, fruits and mushrooms that we find.
We will stop along the way for some seasonal homemade refreshments such as our lovely hogweed and wild garlic soup, elderflower champagne or fruit leathers.
After the walk we will end the day with a wild food lunch based on what we have found. All of our food is seasonal so what we make depends on recent weather and what is around at that time of year. In spring we will be making use of the fresh wild greens and in summer the wild berries and mushrooms.
After the course we will email you a list of everything we talk about on the day; to help you remember what you have learnt.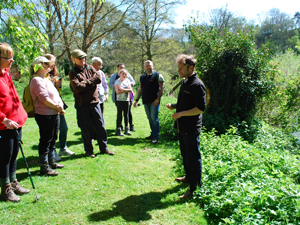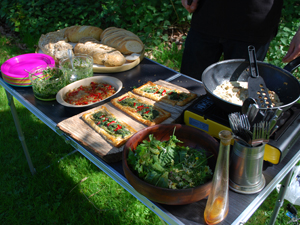 Burford House Gardens
Burford
Tenbury Wells
WR15 8HQ
Outside the cafe at Burford House Gardens.