Suffolk, Thetford Forest Foraging Courses
Thetford Forest is a large pine forest to the east of England within reach of Downham Market, Bury St Edmunds, Norwich and even Cambridge. We'll be meeting at St Helen's picnic site, an area of the Forest which has a mixture of grassland, woodland and riverside, this diverse environment allows for many different wild plants and mushrooms to flourish throughout the year.
The course starts with a short introduction on what to look for, our foraging code and a brief of the Countryside Act, where it relates to foraging. 
Then we'll set off on a roughly 2.5 hour walk around the area and along the Little Ouse river, teaching you how to identify the different plants, flowers, fruits and mushrooms that we find.
We will stop along the way for some seasonal homemade refreshments such as our lovely hogweed and wild garlic soup, elderflower champagne or fruit leathers.
After the walk we will head back to the picnic site to end the day with a tasty wild food lunch based on what we have found. All of our food is seasonal so what we make depends on recent weather and what is around at that time of year. In spring we will be making use of the fresh wild greens and in summer the wild flowers, fruits and mushrooms.
After the course we will email you a list of everything we talk about on the day; to help you remember what you have learnt.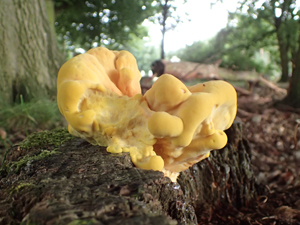 St Helen's Picnic Site
Santon Downham
Brandon
Suffolk
IP27 0TJ*
At the St Helen's Picnic Site.
*Please note that using the postcode alone will not take you directly to St Helen's Picnic Site, so you need to familiarise yourself with its position on this map too.
The toilet facilities here are currently closed but there are some nearby in Santon Downham if required.