Day : Friday
Date : 01/11/2013 - 31/12/2025
Time : 12:00 pm - 3:30 pm (Approx End)
Meet Point :
Map Unavailable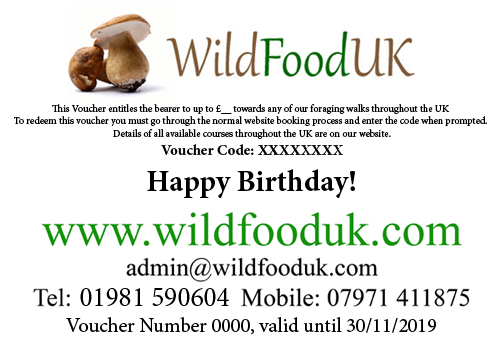 To book your gift voucher:
Select the voucher value you would like from the options, then fill out the form below and send your booking. This will redirect you to our payment page where you need to fill in your payment details.
Once you have paid for your voucher you will receive an email from us, please respond to this with the personal message that you would like on your voucher.
When we have this message we will create your voucher and email it to you in an easy to print format.
Generally our courses are £45 but some of our venues have individual pricing. Please check the prices of our current courses in the area you expect your friend to be booking, before selecting your voucher or vouchers from the list below.
If you have any trouble booking then please email admin@wildfooduk.com or call 01981 590 604.