Inktober Competition
12th October 2018
It's Inktober!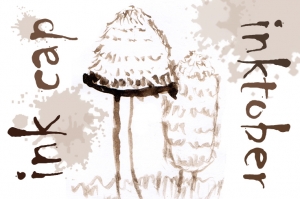 So,  inspired by the hand painted 'Shaggy Inkcap' ink card (right) we received from our friend Chris (@Spores For Thought) we're running a competition to see if you guys can do any better. With great foraging course prizes to be won.
We would like you to create an original artwork themed around Mushrooms, Autumn, Halloween, or a mix of all.
The hard bit is to only use ink made from Inkcap mushrooms (Shaggy Inkcap, Common Inkcap, Magpie Fungus, Glistening Inkcap etc)!
This is a great competition for the kids as it will get them some exercise finding the mushrooms, get their observational skills working as they will have to correctly ID them. Use practical skills to create the ink and then show off their artistry with the picture.
We do want adults and teenagers to enter too, so everyone can get into the spirit of inktober! 🙂
Harvesting the ink from the mushroom is easy, all you need to do is leave the mushroom caps (minus stems) gills down on a plate overnight. They do it all themselves, and you'll find you have a usable ink the next morning in place of an edible mushroom.
The ink can be painted with a brush, or used with a dipping pen or quill.
You can make your own quill from a feather by simply slicing the end off with a very sharp knife and creating a nib shape. The same can be done using a reed, or a piece of bamboo. You may also need to cut a short split up into the very tip of the nib so that it can hold more ink.
Please accompany the artwork with one photo of the mushrooms on a plate, to prove that this is the art medium you have used.
To enter please email us 2 pictures:
1. Of the artwork you have created.
2. Of the mushrooms you used in a state of deliquescing (turning into ink).
Don't forget to add your name and age to the entry. Plus let us know what you used to draw with.
Deadline: Midnight – 31st October 2018.
16s'+ adult prize: £90 voucher.
Under 16's prize: £67.50 voucher.
Under 12's prize: £45 voucher.
One entry per person.
Please submit your entry via email to: [email protected]
We here at Wild Food UK we will judge the entries according to beauty, skill and creative flair!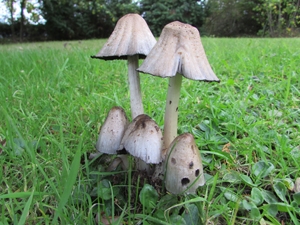 The Common Inkcap ID
The Common Inkcap is an interesting mushroom. Not one that we ever eat as it has a very adverse effect when consumed with alcohol. None the less some people enjoy consuming it. To find out more about how to ID it please click here.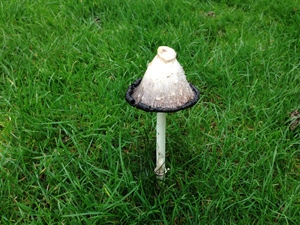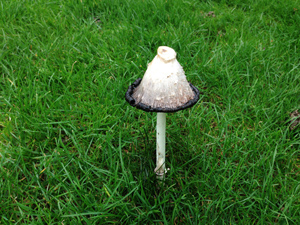 The Shaggy Inkcap ID
A good edible and a great mushroom for making ink. The Shaggy Ink Cap, or Judges Wig, is a very common grassland mushroom. To find out more about it's ID features please click here.